Single Phase Voltage Monitoring Relay
The AC/DC voltage monitoring relay with LCD display is a multifunctional monitoring and protection device. ATO single phase voltage monitoring relay is suitable for undervoltage and overvoltage monitoring of DC 12V, AC/DC 24-48V or AC/DC 110V-240V, adjustable delay time, compact size relay with 1 CO & 1 NC contacts, which can be used in the applications like air compressors, electric motors, pumps, fans, air-conditioning system, blowers, elevators, cranes, refrigeration equipment, laser equipment, industrial control system, etc.
ATO as a supplier can also customize the monitoring relay you want.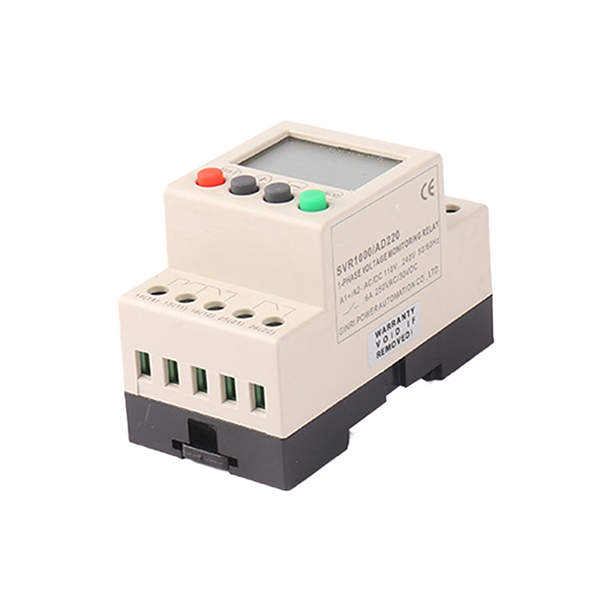 Features:
Powered by the measuring circuit.
Compatible with AC and DC supply.
LCD display and keypad afford precise digital setting. Three phase voltage monitoring relay also has this function.
Compact size in DIN rail mounting.
Adjustable overvoltage and undervoltage threshold.
Independent adjustable delay time for overvoltage, undervoltage.
Adjustable reset mode: automatic reset or manual reset.
Monitoring relay with 1 CO + 1 NC contacts.
Fault recording for the last 3 faults.
Specification:
Model
ATO-SVR1000/D12
ATO-SVR1000/AD48
ATO-SVR1000/AD220
Measuring Circuit
AC/DC circuit (A1+, A2-)
Monitoring Functions
Overvoltage, Undervoltage
Rated Voltage
DC 12V
AC/DC 24-48V 50/60Hz
AC/DC 110-240V 50/60Hz
Undervoltage Setting Range
DC 9-18V adjustable
AC/DC 20-80V adjustable
AC/DC 50-300V adjustable
Overvoltage Setting Range
DC 9-18V adjustable
AC/DC 20-80V adjustable
AC/DC 50-300V adjustable
Voltage Hysteresis
0.1-6.0V adjustable
0.1-30.0V adjustable
1.0-90.0V adjustable
Delay Time for Overvoltage & Undervoltage
0.1-999s adjustable
Reset Mode
Manual/Automatic/Automatic with power-on delay
Delay Time for Reset
0.1-999s adjustable
Indicator
LCD display indicating voltage, operation and fault status
Fault Records
The last 3 faults
Output Contacts
1 CO + 1 NC
Contact Capacity
6A, 250V AC (resistive load)
Degree of Protection
IP 20
Working Conditions
Operating Temperature
-25℃~65℃
Humidity
≤85%RH, non-condensing
Mechanical Durability
1,000,000 cycles
Dielectric Strength
>2kVAC 1min
Mounting
35mm DIN rail
Weight
130g
Dimensions (H*W*D)
80*43*54mm
Certification
CE
Wire Diagram: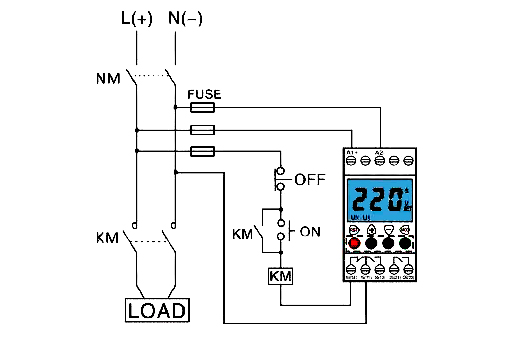 Note:
Relay contacts position shown in "Power-on" (Healthy) condition. If power is off or any fault occurs, the relay contacts will be opposite to the diagram.
For DC power, the polarities must be correctly connected. Otherwise, the relay doesn't work.
Tips: What is single phase voltage monitoring relay?
Relays can be used in motor-driven applications to measure and monitor parameters such as temperature, current or voltage to prevent damage to the motor and connected equipment in the event of a fault or abnormal operating condition. Voltage monitoring relays can detect not only undervoltage and overvoltage conditions, but also voltage-related problems such as phase imbalance, phase loss and phase sequence.
Single-phase voltage monitoring relays are available for single-phase AC or DC voltages. Their primary purpose is to protect the motor and connected equipment from under- or over-voltage conditions, although some are designed to ensure that the voltage remains within a predetermined bandwidth under both high and low voltage limits.
While different manufacturers use different operating principles (open or closed) to energize or de-energize the relay when the set point is exceeded, a simple example of an overvoltage monitoring relay is a relay that uses normally closed (NC) contacts. Here's how it works:
When the operating voltage is below the maximum voltage setting, the relay will de-energize and the contacts will remain in their default closed state. If the voltage exceeds the maximum voltage setting (sometimes called the pickup voltage), the relay energizes, the contacts open, and power is removed from the load. When the voltage drops below the maximum voltage setting including the hysteresis value (called dropout), the relay is de-energized again and the contacts close, restoring power to the load.
Related Products