DC Voltage Monitoring Relay
DC voltage monitoring relay is applied in the DC circuit for monitoring undervoltage and overvoltage of DC cabinet, battery, electric control system, etc. ATO company provides DC voltage monitoring relay with 2 C/O contacts (2 Form C or DPDT) provide protection for the equipment from undervoltage and overvoltage in DC circuit 12V, 24V, 36V or 48V, adjustable trip delay time, LED indicator for working state. DIN rail mounting, compact design, high precision and factory price. In addition to wholesale, ATO as a vendor can also customize the monitoring relay you want.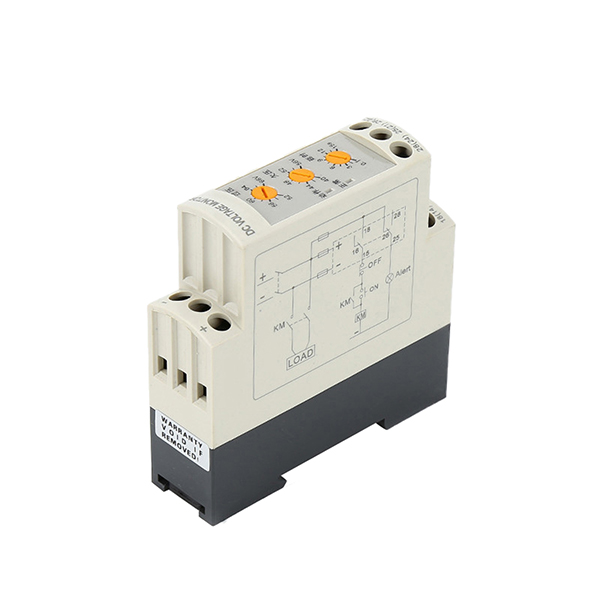 Features:
Compact size in DIN rail mounting.
DC circuit monitoring of overvoltage and undervoltage. Single phase voltage monitoring relay also can do it.
Adjustable overvoltage and undervoltage threshold.
Adjustable trip delay time.
Powered by the measuring circuit.
Monitoring relay with 2 C/O contacts. (2 Form C or DPDT)
2 LEDs for status indication.
Specification:
Model
ATO-DVRD-12
ATO-DVRD-24
ATO-DVRD-36
ATO-DVRD-48
Measuring Circuit
DC circuit
Monitoring Functions
Overvoltage, Undervoltage
Rated Voltage
DC 12V
DC 24V
DC 36V
DC 48V
Voltage Setting Range
Undervoltage
10-14V
20-28V
30-42V
40-56V
Overvoltage
13-17V
26-34V
39-51V
52-68V
Trip Delay Time
0.1-15s adjustable
Voltage Hysteresis
3-5% fixed
Indicators
LED indicators for Normal, Trip
Output Contacts
2 C/O
Contact Capacity
6A, 250V AC (resistive load)
Degree of Protection
IP 20
Working Conditions
Operating Temperature
-25℃~65℃
Humidity
≤85%RH, non-condensing
Mechanical Durability
1,000,000 cycles
Dielectric Strength
>2kVAC 1min
Power Consumption
≤2W
Mounting
35mm DIN rail
Weight
130g
Dimensions (H*W*D)
79*23*79mm
Certification
CE
Wiring Diagram: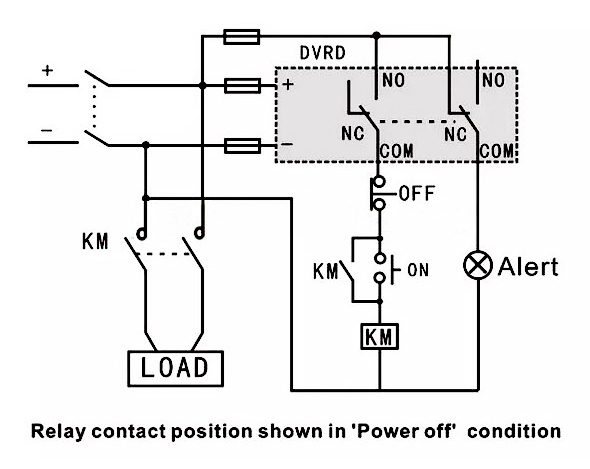 Dimension: (Unit: mm)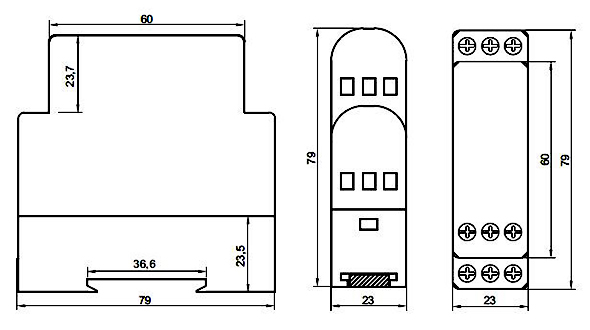 Tips: Why you Need DC Voltage Monitoring Relay From ATO Manufacturer?
High precision. Voltage monitoring relay adopts powerful microprocessor chip, traditional technology adopts AC sampling technology, voltage measurement accuracy is ±1%, new technology adopts true RMS measurement technology, measurement is more accurate, error is less than 1%, and it can Displays the phase voltage values of the three-phase power supply respectively, which is equivalent to the function of three voltmeters.
Wide power supply voltage. Voltage monitoring relay can be applied to phase voltage 150~300V (line voltage 250~500V), which greatly reduces the specifications of the phase sequence protector, which is convenient for users to choose, and can reduce a lot of spare parts funds.
Independent normally open and normally closed output. The voltage monitoring relay adopts high-power double-group contact relays, which can independently control equipment of different voltage levels and are more widely used.
Intuitive display. The special wide temperature and high clear LCD display is adopted, which can display the phase voltage of three-phase power supply under normal operation, and directly display the cause of fault when the fault occurs, and can also display which phase fault and the voltage value when the fault occurs.
Fault record. Voltage monitoring relay adopts non-volatile storage technology. When overvoltage, undervoltage, phase loss, unbalance, and phase sequence faults occur, faults are recorded. Even if the product is completely powered off, it can also memorize fault information, which is convenient for fault inquiry.
Installation method. The base of the Voltage monitoring relay adopts the guide rail type and has two M4 screw holes. It can be installed on the HT35 guide rail or fixed with M4 screws. The two installation methods are more flexible and convenient.
Humanized voltage unbalance protection. An optimized mathematical model is established inside the Voltage monitoring relay, which can automatically adjust the action time according to the three-phase voltage unbalance, without user settings.
Related Products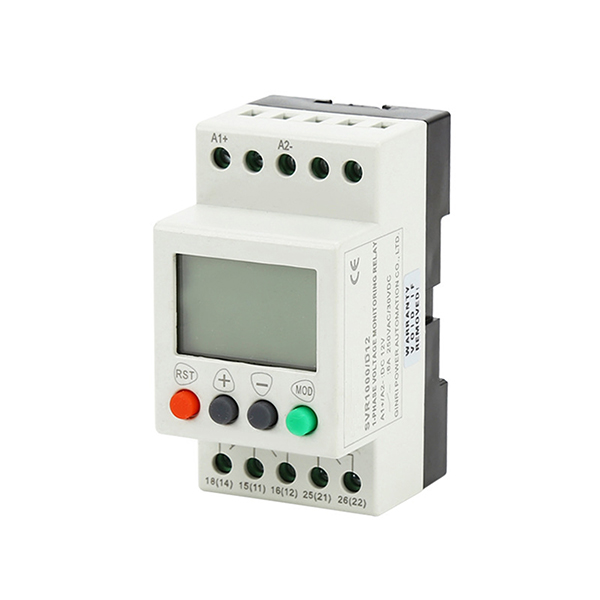 3 Phase Voltage Monitoring Relay