3 Phase Voltage Monitoring Relay
3 phase voltage monitoring relay with LCD display is used to monitor phase loss, phase sequence, voltage unbalance, overvoltage and undervoltage in the 3-phase power supply of 208-480V AC 50/60Hz. The monitoring relay is widely applied in the applications like air compressors, electric motors, pumps, fans, air-conditioning system, blowers, lifts, elevators, cranes, refrigeration units, mining excavators and conveyors, etc. As a large scale relay distributor in China, ATO as a manufacturer offers high accuracy and factory price three phase voltage monitoring relay for you, shop now!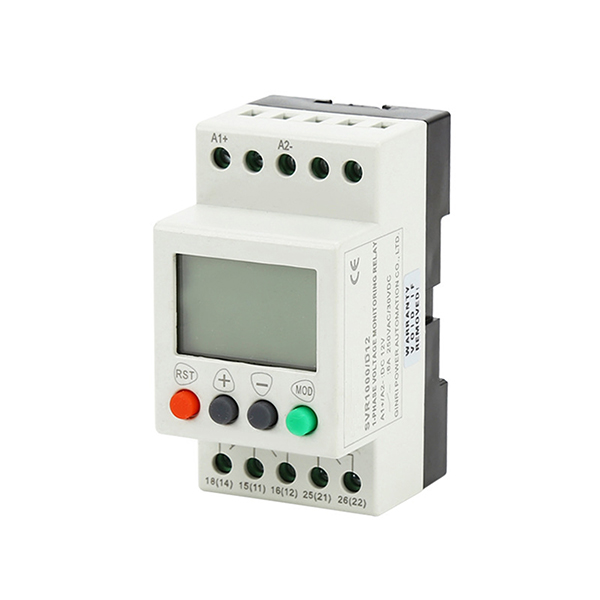 Features:
Compact size in DIN rail mounting.
Microprocessor technology provides highly accurate and repeatable protection.
LCD display and keypad afford a precise digital setting.
Adjustable overvoltage and undervoltage, phase unbalance threshold.
Independent adjustable delay time for overvoltage, undervoltage, voltage unbalance, phase loss and phase sequence.
Adjustable reset method: automatic reset or manual reset. DC voltage monitoring relay also can do it.
Start delay. (power-on delay)
Monitoring relay with 1 CO & 1 NC contacts.
With timer and counter for running and faults.
Specification:
Model
ATO-JVR800-2
Measuring Circuit
3-Phase AC: L1, L2, L3
Monitoring Functions
Phase Sequence (Reversal), Phase Loss (Failure)
Overvolatege, Undervoltage, Voltage Unbalance (Asymmetry)
Timer & Counter
Rated Voltage
208-480V AC, 50/60Hz
Overvoltage Setting Range
200-600V
Undervoltage Setting Range
150-500V
Voltage Hysteresis
1-20V
Delay Time for Overvoltage & Undervoltage
0.1-30s
Voltage Unbalance Ratio
1-50%
Voltage Unbalance Hysteresis
1-10%
Delay Time for Voltage Unbalance
0.1-30s
Delay Time for Phase Loss
0.1-30s
Delay Time for Phase Sequence
0.1-30s
Power On Delay Time
0-999s
Reset Mode
Manual/Auto
Delay Time for Reset
0.1-999s
Timer and Counter Input
AC/DC 80-450V
Indicator
LCD display indicating voltage, fault and operation status
Output Contacts
1 CO + 1 NC
Contact Capacity
6A, 250V AC (resistive load)
Degree of Protection
IP 20
Mechanical Durability
1,000,000 cycles
Dielectric Strength
>2kVAC 1min
Mounting
35mm DIN rail
Certification
CE
Weight
130g
Dimensions (H*W*D)
80*43*54mm
Certification
CE
Wiring Diagram: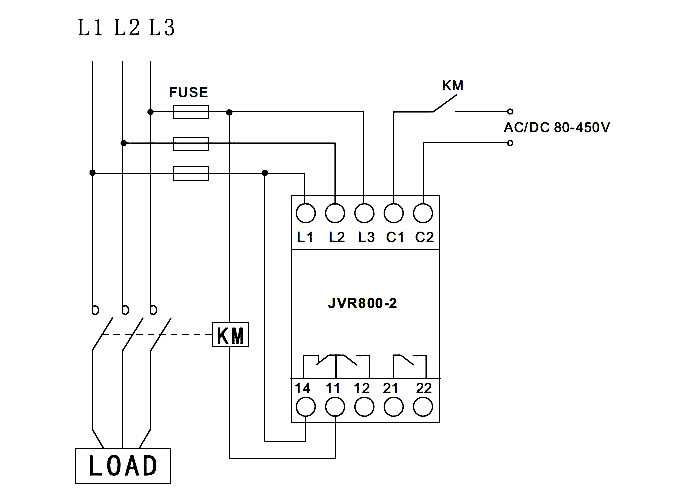 Dimension: (Unit: mm)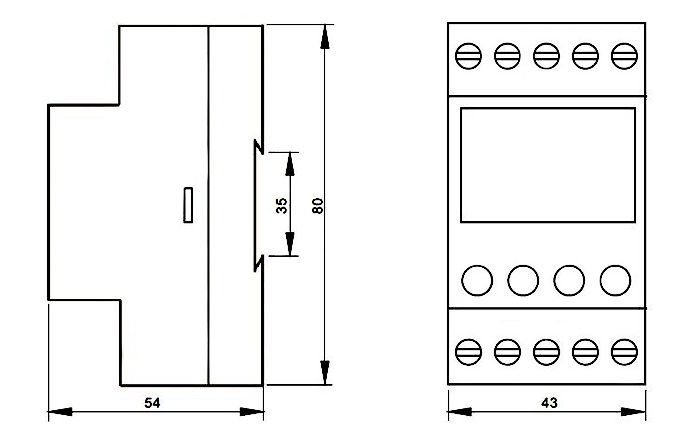 Tips: What is the Function of 3 Phase Voltage Monitoring Relay?
In a three phase system, overvoltage and undervoltage conditions occur when the voltages on all three phases increase or decrease simultaneously. To determine if overvoltage and undervoltage conditions exist, the relay measures the average voltage on all three lines and compares it to the voltage setpoint. The 3 phase voltage monitoring relay can detect phase loss, phase sequence and phase imbalance in three-phase systems. To determine if there is a phase imbalance, the relay monitors each phase to detect when the voltage of any one phase drops by a predetermined amount below the average of all three phases. Likewise, if a complete phase loss is detected, the relay will trip and remove power to the motor.
Phase imbalance can force some motor windings to be loaded more than others, which can cause the motor to experience excessive heat. If the motor has a phase loss, it can continue to run by drawing the required current from the remaining phases, but this will also cause excessive heat generation and damage the motor.
Changing the order of any two of the three voltage phases (called inversion) can be very dangerous because it can cause a change in the direction of rotation of the connected equipment (for example, a motor, fan, or pump). To monitor phase changes, the relay only monitors the sequence of the three phases and trips if it deviates from the defined sequence.
Related Products