Analog Timer Relay
Timer relay is virtually a kind of relay, which generates a contact action after the set precision time when the input signal is added or removed. ATO provides analoy timer relay with different voltage and time. 12V, 24V, 220V and 6s, 12s, 30s, 60s, 6min, 12min, 30min, 60min, 6h, 12h, 30h, 60h can be chosen. Analog time relay is widely used to control and indicate time in automatic control circuit.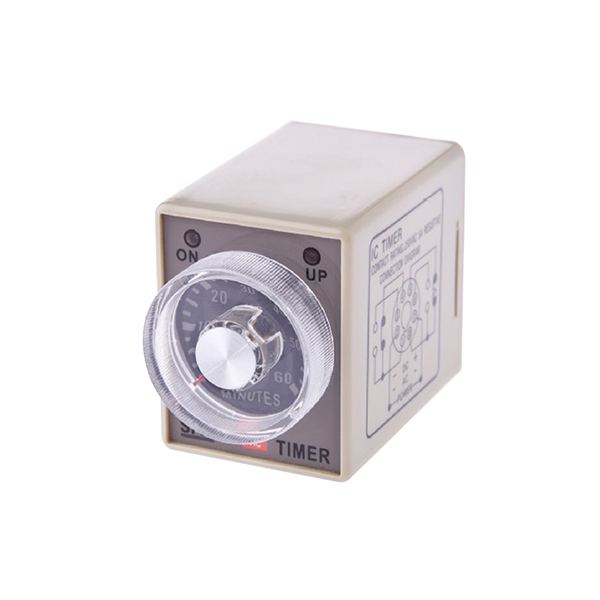 Features:
Extend the control. When the control signal of multi-contact relay reaches a certain value, the multi-circuit circuit can be switched, broken and connected at the same time according to different forms of contact group.
Integrated signal. When multiple control signals are input into multi-winding relay in prescribed form, the predetermined control effect can be achieved through comparison and synthesis. Same thing with digital timer relay.
Automatic, remote control, monitoring. The relay on the automatic device, together with other electrical appliances, can form a program control line, so as to realize automatic operation.

Specification:
Model
ATO-TIMER-A
Mode of Operation
on delay timer
Supply Voltage
220V AC, 12V DC, 24V DC
Output Mode
mode 2: one group instantaneous and one group delay output
mode 3: one group suspension delay output
mode 4: two groups sync delay output
Timing Range
6s, 12s, 30min, 60min, 6h, 12h, 30h
Setting Method
knob with pointer
Contact Capacity
3A, 250V AC
Power Comsuption
≤ 2W
Mounting Type
panel mount
Dimensions
58*88*68 mm, 40*50*58 mm, 48*48*73 mm
Accessary
8-pin mounting socket
Operating Temperature
-10 ℃ ~ +50 ℃
Weight
500g
Certification
CE, CCC, TUV, UL
Analog Timer Relay Connection & Output Operation Mode:


Tips: What is the Basis for the Wiring Method of Analoy Time Relay?
Control wiring. Consider analog time relay as DC relay.
Work control. Although the control voltage is on, the control function is determined by the timer on the panel.
Load cable connection. The neutral line or negative end of a power supply or electrical connector.
Working principle. Timing invalid period, equivalent to normal light switch off state. When effective, the relay action, the electrical work with electrical appliances, equivalent to ordinary light switch on the state.
Related Products