3PDT Electromagnetic Relay
Electromagnetic relay is a kind of electronic control device, 3PDT electromagnetic relay is a series of electromagnetic relays. ATO industrial automation supplier offers high quality 3 pole double throw electromagnetic relay with 11-pin. All the contacts of the electromagnetic relay are made of silver alloy material, which has super conductive property, making the service life longer. Electromagnetic control relay often used in automation system, receiver, sound equipment and household appliance. ATO as a vendor can also provide customized services.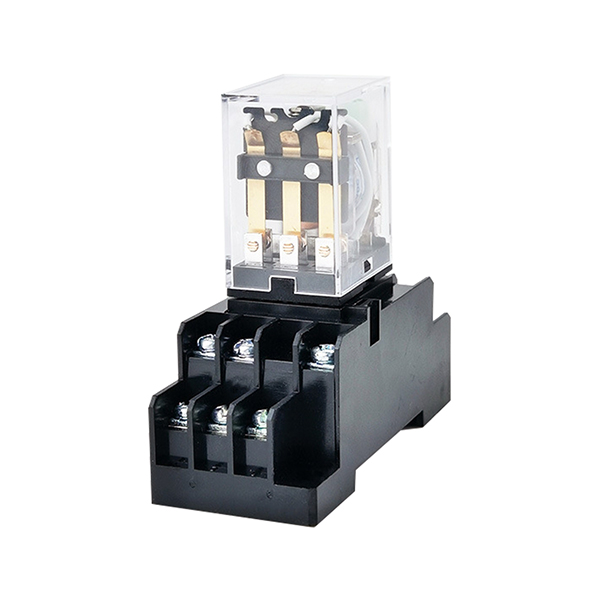 Features:
High reliability. The 3 pole double throw electromagnetic relay has no mechanical parts, and the contact function is completed by solid devices. Because there are no moving parts, it can work in the environment of high impact and vibration.
High sensitivity, good electromagnetic compatibility. The electromagnetic relay has a wide input voltage range, low drive power, and can be compatible with most logic ics without the need for buffers or drivers. Same thing as DPDT electromagnetic relay.
Capable of fast conversion. Electromagnetic relays use solid state devices, so the switching speed can be from a few milliseconds to a few microseconds.
Low electromagnetic interference. The electromagnetic relay does not touch the ignition arc, thus reducing the electromagnetic interference.
Specification:
Model
ATO-EMR-HH53P/63P
Terminal Type
plug in
Number of Pins
11
Contact Form
3PDT (3 pole double throw)
Contact Capacity
5A / 240V AC, 28V DC
10A / 240V AC, 28V DC
Contact Material
silver alloy
Coil Power
DC≤0.9W, AC≤1.2VA
Coil Voltage
optional: 12V DC, 24V DC, 110V AC, 220V AC
Contact Resistance @6V DC 1A
≤100 MΩ
Leakage Current
≤1 mA
Insulation Resistance
≥500 MΩ at 500V DC
Electrical Service Life
105 Times (frequency: on 1 time/1s, off 1 time/1s)
Mechanical Service Life
106 Times (frequency: 300 Time/ 1min)
Ambient Temperature
-25 ℃ ~ +50 ℃
Dimension
27×21×35 mm, 27.5x31x35 mm
Weight
35g ~ 80g
Certification
CE
3PDT Electromagnetic Relay Dimension: (Unit: mm)
ATO-EMR-HH53P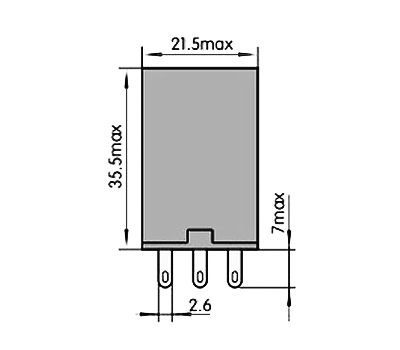 ATO-EMR-HH63P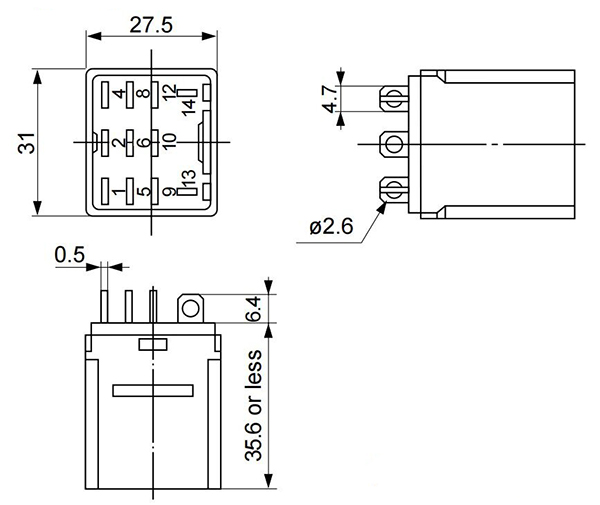 Tips: How to Select 3PDT Electromagnetic Relay?
Input Signal. Select electromagnetic, temperature, time or photoelectric relays by judging whether input signals are electricity, temperature, time or photo signals.
Load Condition. Configurations and groups of contacts shall be determined according to actual conditions of controlled circuit. It is very important to determine parameters according to load capacity and load nature.
Working Environment. Working environment mainly refers to temperature (maximum and minimum temperature), humidity (maximum relative humidity in -40℃), low pressure (it is unnecessary for places with an elevation of lower than 1,000 meters to consider the factor), oscillation and impact. In addition, service environment involves requirements for packaging mode, installation mode, shape, dimensions, and insulation performance etc.
Related Products