JR36 Thermal Overload Protection Relay
JR28 3 phase thermal overload relay is a series of thermal overload relays. Thermal overload relay is the application of current thermal effect principle, often used for AC motor or other electrical equipment and circuit overcurrent. JR28 3 phase thermal overload relay from ATO provider, rated operating current is available at 25A, 36A and 93A. The 3 phase thermal overload relay is equipped with a flame retardant shell to withstand wear and high temperature. JB28 series thermal overload relay with 380V rated operation voltage. Ambient air temperature of thermal over load relay between -5 ℃ and 40 ℃. Both wholesale and bulk, ATO as a supplier will be the most cost-effective choice.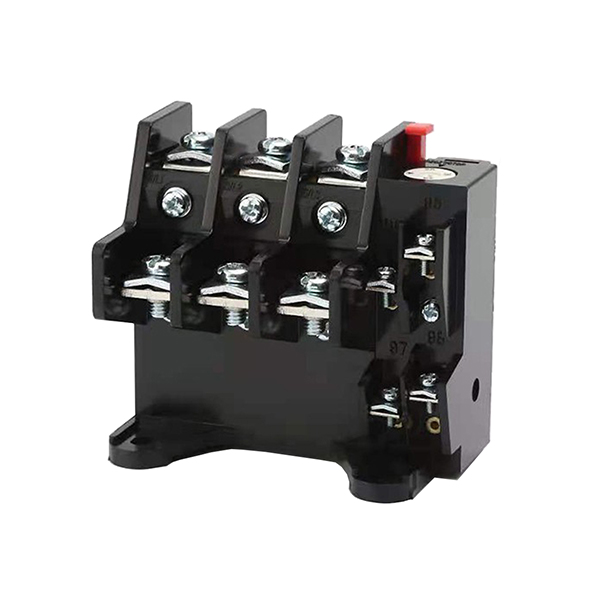 Specification:
Model
ATO-JR36-20
ATO-JR36-63
ATO-JR36-160
Current
0.25-32A
14-63A
40-160A
Rated Insulation Voltage
690V
690V
690V
Open-Phase Protection
Yes
Yes
Yes
Manual and Automatic Reset
Yes
Yes
Yes
Temperature Compensation
Yes
Yes
Yes
Test Button
Yes
Yes
Yes
Installation
stand-alone type
stand-alone type
stand-alone type
Auxiliary Contact
1NO+1NC
1NO+1NC
1NO+1NC
AC-15 380V Rated Current
0.47A
0.47A
0.47A
Traverse Cross-Sectional Area
Main Loop
Single Core or Stranded Wire
1.0~6.0mm2
2.5~16mm2
10~70mm2
Binding Screw
M5
M6
M8
Auxiliary Loop
Single Core or Stranded Wire
2*(0.75~1.5)mm2
2*(0.75~1.5)mm2
2*(0.75~1.5)mm2
Binding Screw
M3
M3
M3
Dimension: (Unit: mm)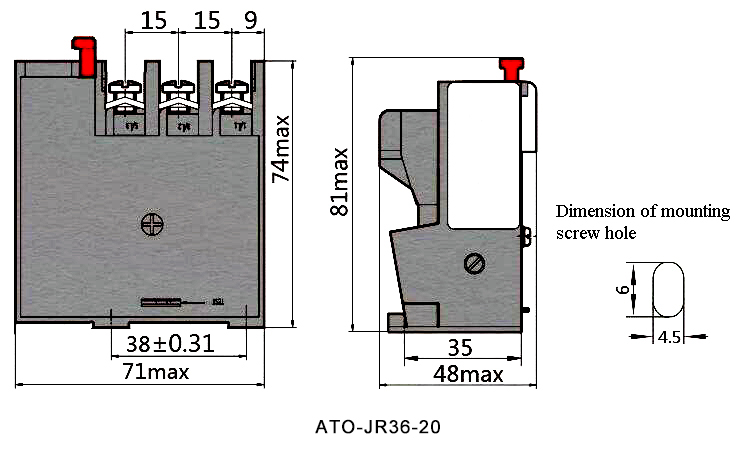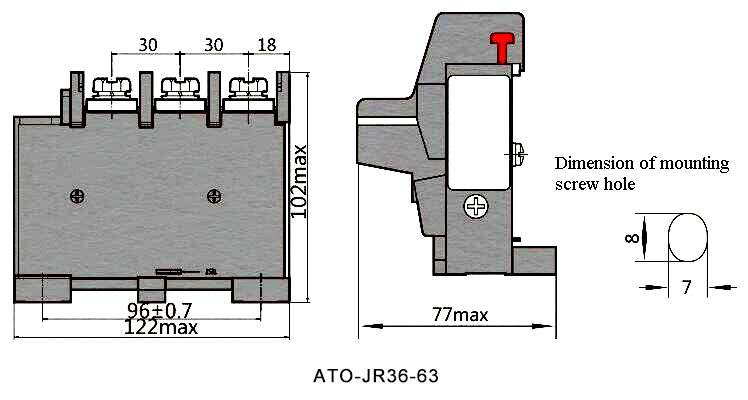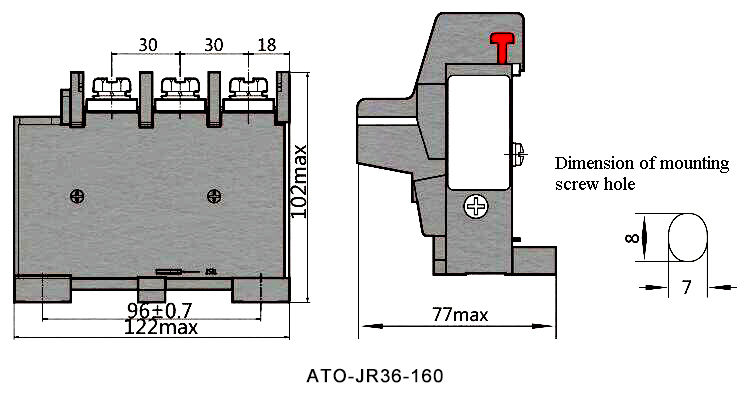 Tips: What is a Thermal Overload Protection Relay Used For?
The thermal element of the
thermal overload relay
is connected to the motor circuit directly or through a current transformer. When the motor is overloaded, the main bimetallic sheet is heated to the operating temperature, so that the relay operates, breaking the power circuit of the motor, and preventing the motor from being damaged by overload. The action time of the relay varies with the magnitude of the overload current according to the inverse time limit. Therefore, its thermal characteristics are easy to match with the thermal characteristics of the motor, and it has the characteristics of simple structure, low price, stable operation performance and convenient use. Therefore, most squirrel-cage rotor motors and partially wound rotor motors still use thermal overload relays as protection against overload, phase failure and current unbalanced operation. Thermal overload relays can also be used as control appliances for the heating state of other electrical equipment.
Related Products