Electromagnetic Relay Module
The relay module is to integrate and serialize the single small power relay in the electrical control cabinet. Relay module conforms to the development trend of miniaturization and integration, and is the replacement product of the original single relay. ATO industrial automation manufacturer offers many types of relay modules, such as 2, 4, 6, 8, 10, 12, 16, 20, 24, 32 channel relay board. High current relay with 1NO+1NC or 2NO+2NC contact.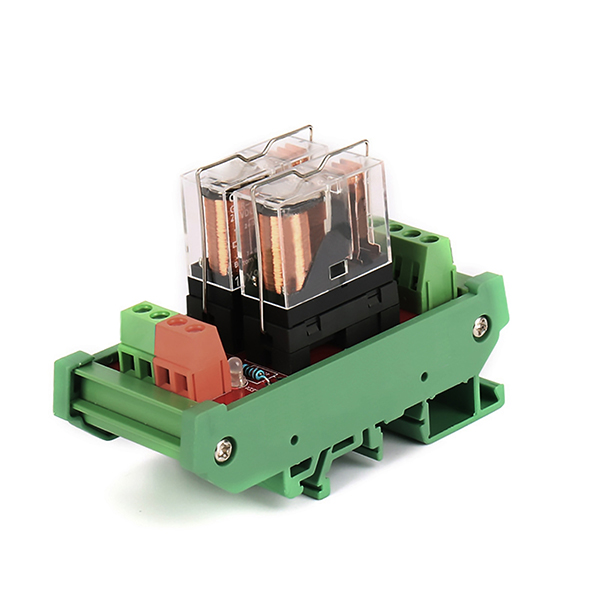 Features:
The advantages of low level drive, the system power reset, the load will not work, high security.
The optical coupling isolation can realize the separation of the control voltage and the driving voltage, realize the dual power supply, and improve the interference ability.
Relay module with LED relay status indicator light (on when relay is closed, off when relay is disconnected).
Both the control end and the controlled end adopt the latest terminal post design, which is more practical for 4PDT electromagnetic relay.
Electromagnetic relay module has a variety of certifications: CE.
Specification:
Model
ATO-RM-24
Number of Channels
2, 4, 6, 8, 10, 12, 16, 20, 24, 32 channel
Input Signal
compatible with NPN (input 0V signal is valid), and PNP (input 24V signal is valid)
Input Drive Current
> 30 mA
Supply Voltage (Coil Voltage)
24V DC
Relay Contact Form
1NO+1NC
2NO+2NC
Relay Max. Load Volatge
resistive load: 10A 250V AC, 12A 30V DC
resistive load: 5A 250V AC,5A 30V DC
inductive load: 7.5A 250V AC, 5A 30V DC
inductive load: 2A 250V AC, 3A 30V DC
Installation
standard rail mounting (Can be mounted on NS35/7.5 or NS32 guides)
Working Environment
5% ~ 85% RH, -20 ℃ ~ +70 ℃, non-condensing
Storage Temperature
-40 ℃ ~ +150 ℃
Size (L*W*H)
2 channel: 87*40*65 mm
4 channel: 87*70*65 mm
6 channel: 107*87*65 mm
(If you want to know the size of other channels, please contact us.)
Weight
Approx. 0.5 kg ~ 1 kg
Wiring Diagram:
1NO+1NO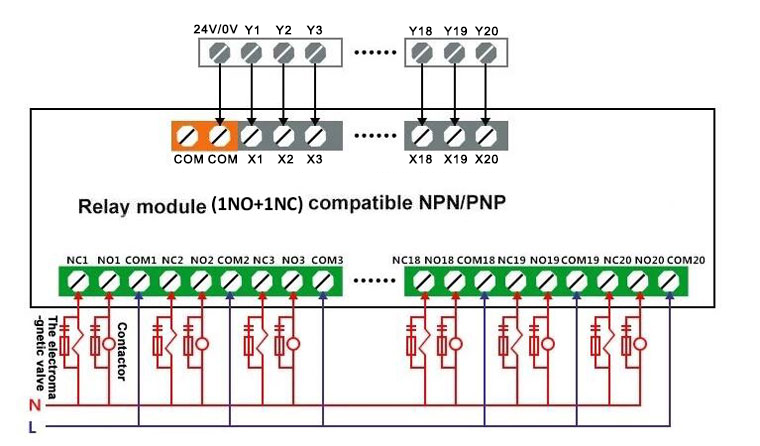 2NO+2NO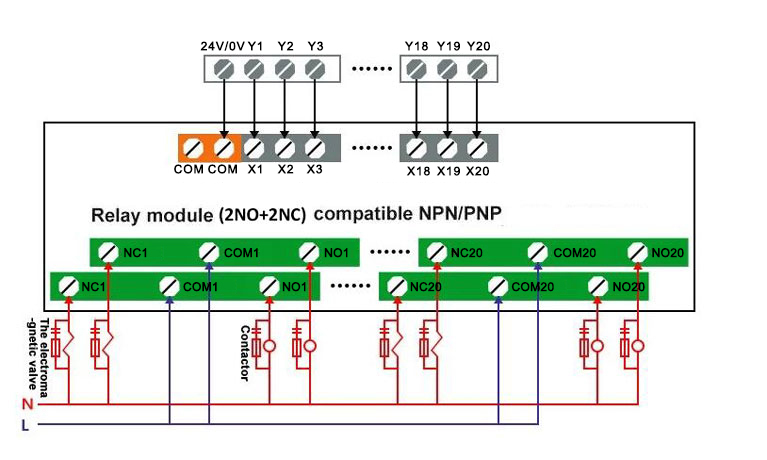 Tips: What is the Function of Relay Module?
When doing automatic electrical control cabinet, PLC control load will add small intermediate relay, in industrial automation now has to develop in the direction of integration, then developed a relay module, PLC can directly control relay coils of module, relay contact angle to control the load module, benefit is relay module of small volume, It only accounts for 1/2 volume of the small intermediate relay, and the contact current is larger than that of the small relay. Generally, it is 10A, 12A, 16A, 30A, with a varistor. When the relay is disconnected, the spark generated will play the role of arc extinguishing and improve the life of the relay.
Related Products