Digital Timer Relay
Digital timer relay with LED display, on-delay timer, time setting range 0.01~990 hour, supply voltages 12V DC, 24V DC or 12V AC, 24V AC, 220V AC, 240V AC, and 380V AC. Timer delay relay with optional mounting socket for DIN Rail, easy to install, high accuracy and wide time delay range. ATO high quality and factory price digital timer relay is widely applied in the industrial automation field.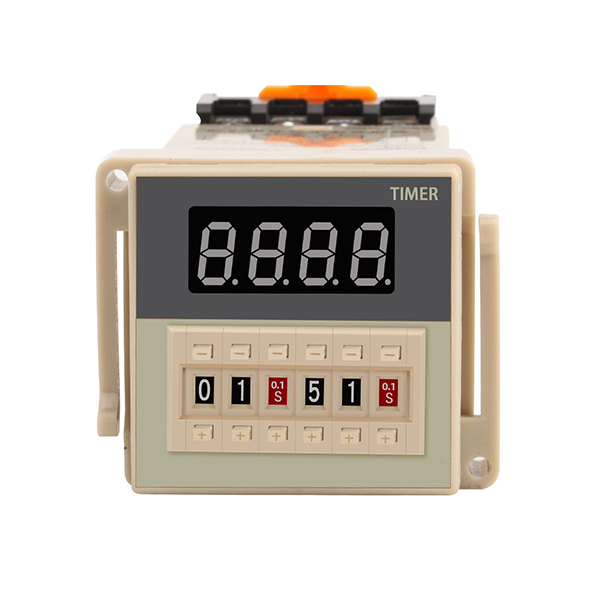 Feature
Flexible button. Flexible button for easy operation. Quick adjustment, 8 adjustable time limit.
Parameter, wiring diagram. Wiring diagrams and specifications are printed on the side of the digital timer relay. Easy to install and not easy to make mistakes.
High capacity pin. The contacts are tightly connected to the base. Copper galvanized stitch, conductive superior performance.
Low heat, good sealing. ATO digital timer relays adopt environmentally friendly materials with high quality internal parts, good water resistance, dustproof, which can extend its service life.
Specification
Model

ATO-DH48S-S
Dimension
48mm (H) × 48mm (W) × 81.6mm (D)
Mounting & Socket
Surface (-n)
PF083A, PS-08, P2CF-08
Flush (-y)
US-08, P3G-08
Full Timing Range
0.01S~990H
Rated Voltage
DC: 12V,24V, 50/60Hz
AC: 12V, 24V, 110V, 220V, 240V, 380V, 50/60Hz
Display
LED
Life
Mechanical
5×106 times
Electrical
105 times
Accuracy
Repeat Error
±0.5% max
Setting Error
±0.5% max
Voltage Error
±0.5% max
Temp Error
±0.5% max
Reset Time
0.1 sec max
Consumed Power
2VA
Ambient Temperature
-10℃~ +55℃
Ambient Humidity
48~85%RH
Weight
160g
Certification
CE, CCC, TUV, UL
Dimension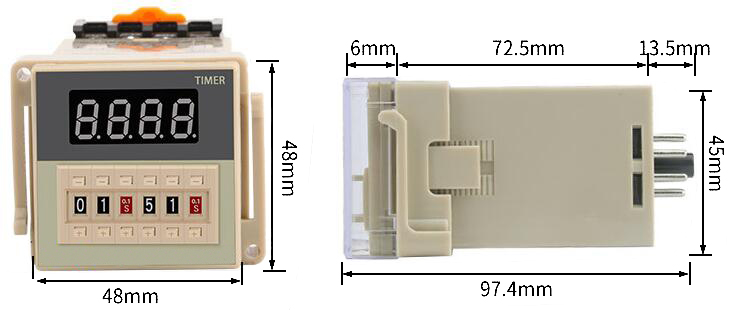 Detail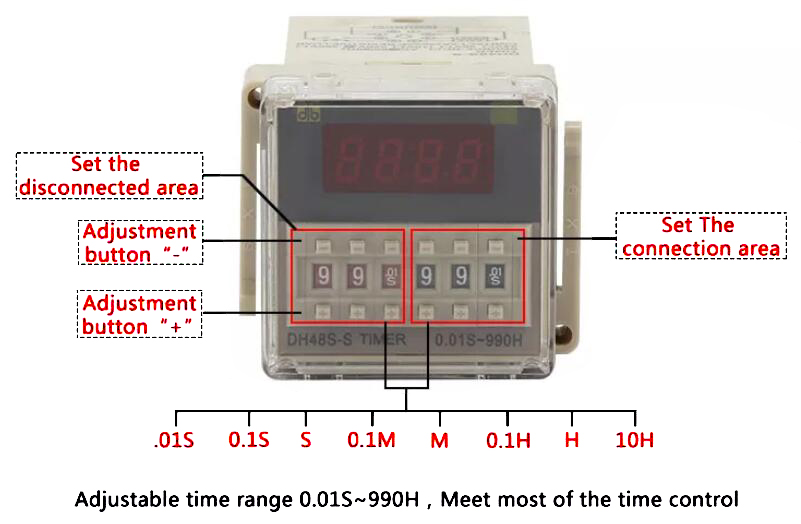 What is a digital timer relay used for?
Digital time relay is used for relay protection. It can shorten the level difference of the overcurrent protection, reduce the maintenance amount, and improve the correct action rate of the protection. It protects the safe and stable operation of the main system and main equipment. Because the timer relay has the characteristics of high precision, good stability, convenient and intuitive setting, no need for calibration to change the setting value, and wide setting range. Therefore, digital time relays are widely used in power systems.
Related Products