SPDT DIN Rail Mount Slim Relay
Slim interface relay is an electromagnetic switch. Electromagnetic relay switch with 24V DC coil voltage. ATO industrial automation supplier provides high quality and affordable price electromagnetic switch. Slim interface relay adopts sliver alloy contact material, so the texture of wear, high melting point and oxidation resistance. Electromagnetic relay switch can be used in electronic equipment and PLC automatic system.
Specification:
Basic
Model
ATO-EMR-24VDC
Dimension (L*H)
78×54 mm
Weight
30g
Ambient Temperature
-25 ℃ ~ +55 ℃
Number of Pins
5
Mount Type
DIN rail
Technical Parameters
Contact Form
SPDT (NO + NC)
Contact Material
Silver alloy
Contact Capacity
6A/28V DC, 6A/250V AC
Coil Power
DC 2.5W, AC 5VA
Coil Voltage
24V DC
Insulation Resistance
1000 MΩ at 500V DC
Dimension: (Unit: mm)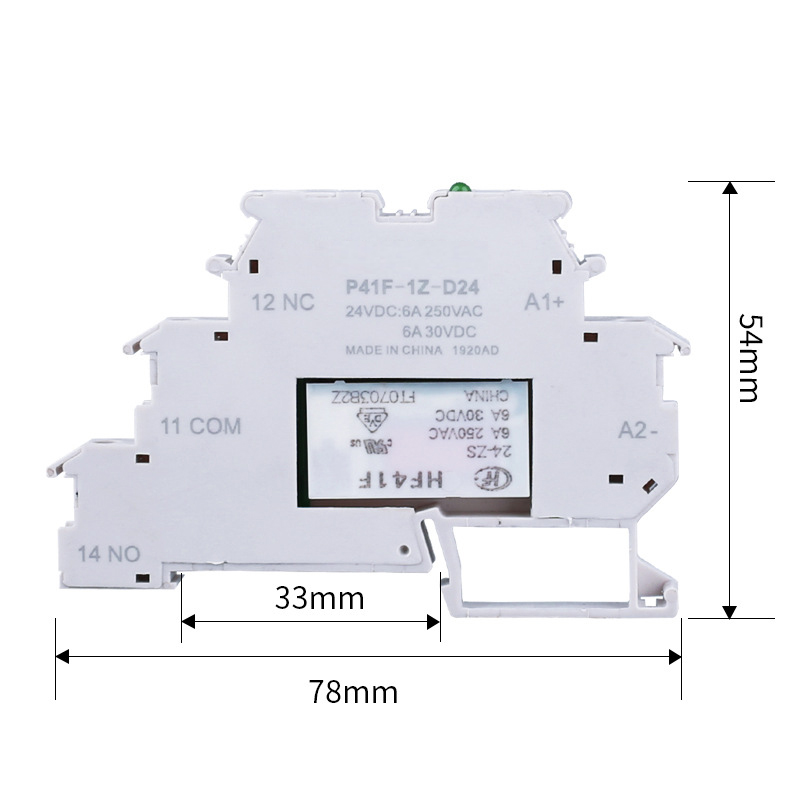 Tips: What is the Electromagnetic Relay Contact Pressure?
When the dynamic and static contacts are in contact, an applied pressure must be applied to ensure good electrical contact between the dynamic and static contacts. This pressure is usually called contact pressure of the contact. The contact pressure of
electromagnetic relay
has the following functions:
Ensure good contact between dynamic and static contacts, and minimize contact resistance of relay.
Prevent the growth of the surface film and the contamination of the contact surface.
Inhibition of contact bounce. The collision can be buffered when the contact is closed, the kinetic energy of the collision can be converted into elastic potential energy, and then the bounce of the contact can be inhibited.
Related Products