DPDT DC Signal Relay
Miniature low signal relays are commonly used devices in automatic control systems. They are used to connect and disconnect circuits, to issue control commands and to reflect equipment status to form automatic control and remote control circuits. ATO DPDT DC signal relays are available 3V, 5V, 6V DC coil voltage, optional coil nominal power 200mW or 150 mW, contact form DPDT, max. switching current 2A, rated load 1A 125VAC/2A 30VDC, small in size and light in weight. Now, contact ATO for the latest quote!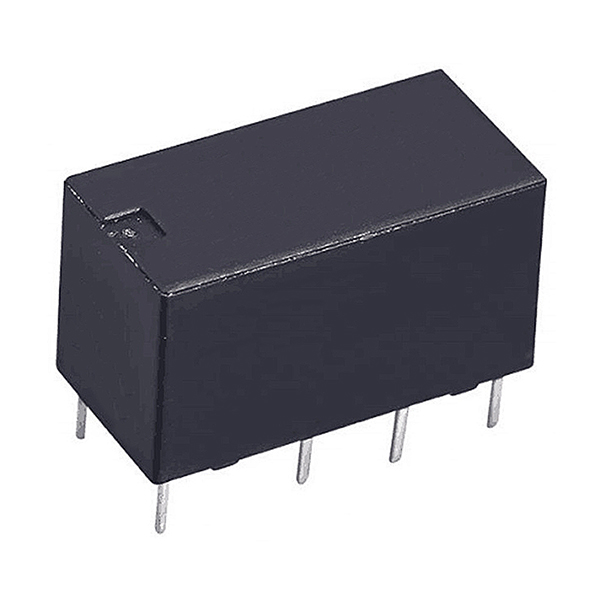 Feature
2A contact switching capability.
High sensitive type, coil power is 150mW/200mW.
Standard DIP construction terminal.
Ultra – small type, gold – plated contacts.
Suit for complete machine wave soldering and integral cleaning process.
Main applications: Electric power protection, automation, communication.
Specification
Model
ATO-SR-FH32DC3V
ATO-SR-FH32DC5V
ATO-SR-FH32DC6V
Type
Standard Type
Sensitive Type
Standard Type
Sensitive Type
Standard Type
Sensitive Type
Coil Parameters (23℃)
Nominal Voltage
DC 3V
DC 5V
DC 6V
Nominal Power
200mW
150mW
200mW
150mW
200mW
150mW
Pick-up Voltage
≤2.25VDC
≤2.25VDC
≤3.75VDC
≤3.75VDC
≤4.50VDC
≤3.75VDC
Drop-out Voltage
≥0.15VDC
≥0.15VDC
≥0.25VDC
≥0.25VDC
≥0.30VDC
≥0.25VDC
Rated Current
66.7mA
50mA
40mA
30mA
33.3mA
25mA
Coil Resistance
45Ω
60Ω
125Ω
166.7Ω
180Ω
240Ω
Max Voltage
DC 3.9V
DC 3.9V
DC 6.5V
DC 6.5V
DC 7.8V
DC 7.8V
Contact Form: DPDT (2C)
Contact Resistance (Initial): ≤100mΩ (6VDC 1A)
Contact Material: AgNi + Gold Plating
Rated Load (Resistance Load): 1A 125VAC
Max. Switching Voltage: 250VAC30VDC
Max. Switching Current: 2A
Max. Switching Capacity: 125VA/60W
Min. Allowing Load: 10mV 10μA
Insulation Resistance (Initial): 1000mΩ (500VDC)
Dielectric Strength Between Open Contacts (Initial): 750VAC, 1 min
Dielectric Strength Between Coil & Contacts (Initial): 1500VAC, 1 min
Operate Time: ≤5ms
Release Time: ≤5ms
Shock Resistance (Functional): 98m/s2(10g)
Shock Resistance (Destructive): 980m/s2(100g)
Vibration Resistance: 10Hz ~ 55Hz 1.5mm DA
Mechanical: 1 x 107ops
Electrical: 1A 125VAC 1 x 105ops (ON/OFF=1s/9s), 2A 30VDC 1 x 105ops (ON/OFF=1s/9s)
Ambient Temperature: -40℃ ~ 85℃
Humidity: 5% to 90%
Termination: PCB (DIP Encapsulation)
Unit Weight: 5g
Construction: Plastic Sealed
Certification: CE, CCC, TUV, UL
Note: In order to maintain the initial performance parameters of the signal relay, please be careful not to drop it.
Dimension (Unit: mm)

Performance Curve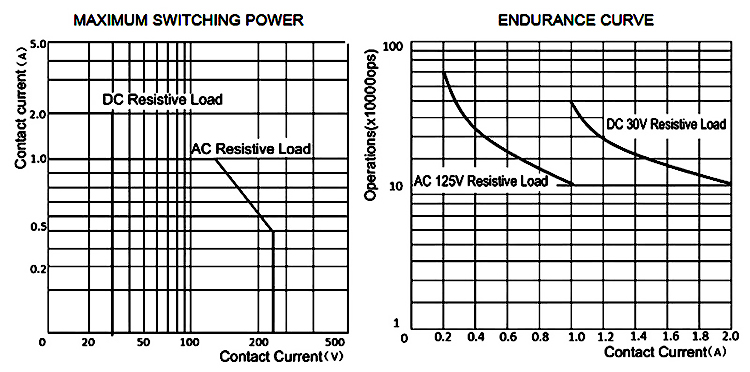 What are the functions of signal relay?
Signal relay is composed of two parts, including contact system and electromagnetic system. The electromagnetic system consists of a coil, a fixed core, a yoke iron and a movable armature. The contact system consists of moving contacts and static contacts, which plays an important role whether it serves as the core component of relay signal system, or as the interface component of electronic or computer signal system. The functions of DPDT DC signal relay are as follows.
Expand the scope of control. When the control signal of multi-contact signal relay reaches a certain value, the multi-circuit can be switched on, disconnected and connected at the same time according to different forms of contact group.
Amplification. A sensitive relay can control a large power circuit with a very small amount of control.
Integrated signal. When multiple control signals are input into the multi-winding relay in the prescribed form, the predetermined control effect can be achieved through comparison and synthesis.
Automatic, remote control and monitoring.Signal relays in automatic devices together with other electrical appliances, can form a programmed control circuit for automatic operation.
Related Products