Single Phase DC-AC SSR Solid State Relay
Single phase solid state relay is a non-contact switch composed of microelectronic circuits. Voltage type is DC to AC. Different current with this SSR relay, 10A, 15A, 25A, 40A, 60A, 80A, 100A and 120A. The controlled signal of single phase SSR can control the main circuit and the main load, such as printing machine and molding machine. ATO provides a variety of SSR single phase solid stste relays and quality service.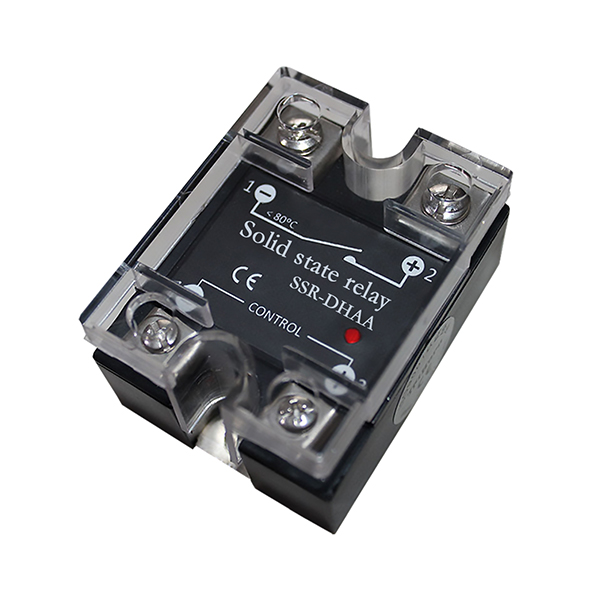 Single Phase SSR Features
Long service life and high reliability. Single phase solid state relays have no mechanical parts and are made of solid state devices to complete the contact function, so they can work in the environment of high impact and vibration. The long service life and high reliability of the single-phase solid state relay are determined by the inherent characteristics of the components that compose the solid state relay.
High sensitivity, low control power and good electromagnetic compatibility. Single phase SSRs have a wide input voltage range, low drive power, and are compatible with most logic ICS without buffers or drivers.
Capable of fast conversion. SSR relays use solid state devices, so the switching speed can be from a few milliseconds to a few microseconds.
Low electromagnetic interference. SSR solid state relays have no input coil, thus reducing electromagnetic interference. Most AC output solid state relays are a zero-voltage switch that turns on at zero voltage and off at zero current.
Specification
Model: ATO-SSR-DHDA
Voltage Type: DC to AC
Control Voltage Range: 3-32V DC
Max Input Current: 12 mA
Must Operate Voltage: 2.8V DC
Must Release Voltage: 1.5V DC

Phase Type: Single phase
Maximum Load Current: 10A, 15A, 25A, 40A, 60A, 80A, 100A, 120A
Load Voltage Range: 24-480V AC
Peak Voltage: 800V AC
Maximum Off-state Leakage Current: 2 mA
Maximum Off-state Time: 10 ms

Maximum On-state Voltage Drop: 1.5V
Dielectric Strength: 4000V
Operating Temperature: -20 ℃ ~ 80 ℃
Weight: 100g
Mount: Panel
Certification: CE, CCC, TUV, UL

Note:
When the load is a resistive load, the maximum load current of the selected SSR should be 2~3 times greater than the actual load current;
When the load is an inductive load, the maximum load current of the selected SSR should be more than 7~8 times the actual load current.
When the maximum load current is higher than 10A, a heat sink must be installed to the solid state relay, or the SSR relay should be mounted on a metal base plate with heat dissipation effect, and the thermal grease is applied between them.
Dimension (Unit: mm)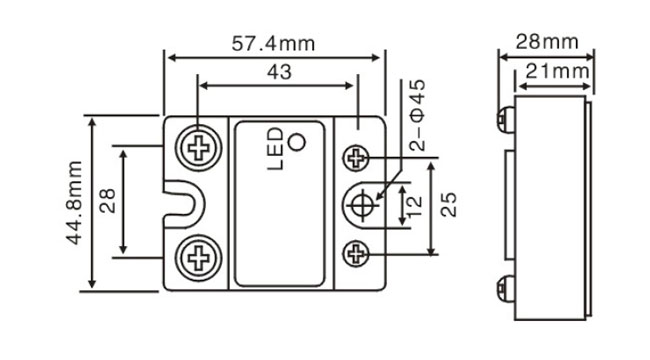 Wiring Diagram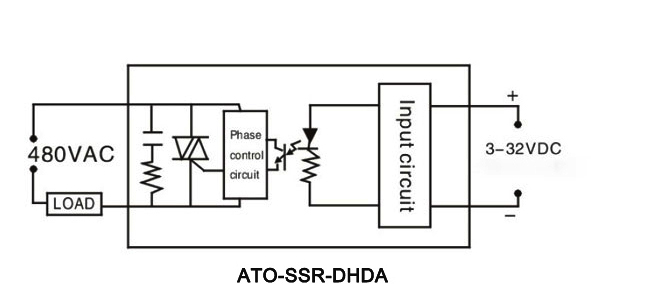 Tips: How to Maintain Single Solid State Relay?
In the event of long-term operating current more than 5A, solid state relay must be equipped with a radiator matched, the temperature of whose baseplate shall not exceed 80 ℃ in operation. If the ambient temperature is too high, air cooling must be adopted to accelerate air flow.
In order to ensure that the solid state relay contacts closely the surface of the radiator in the process of installation to achieve a better heat dissipation effect, please install the heat-conducting film in parallel between the SSR baseplate and contact surface of the radiator and tighten the fixing screw.
In order to prevent breakdown damage to solid state relay caused by load short-circuit or over-current, voltage overload, it is recommended to install and use to a special fast acting fuse matched. For inductive load, it is also necessary to install varistors and RC absorption circuits at the solid-state output. For a DC single phase SSR, a freewheeling diode and other protection devices shall be installed if inductive load exists.
Related Products